Custom Outdoor Commercial Spaces Bring Beauty and Functionality Outside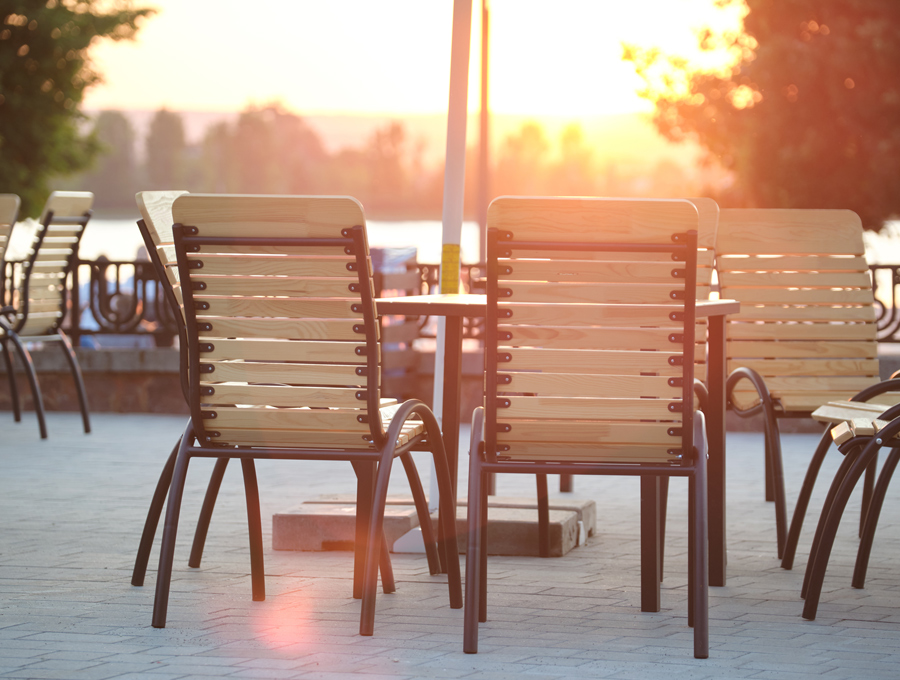 Even before the COVID-19 pandemic, businesses from offices to restaurants focused on adding functional outdoor areas where employees and guests could eat, work and spend time outside. This trend has only become more popular, with many new buildings often featuring outdoor spaces that incorporate hardscape and softscape elements that appeal to today's modern workers and consumers.
Pay attention to the details
Like any outdoor landscaping project, the smallest details can trip you up. That's why it's essential to create a comprehensive plan before you start building out your space. Here's what to consider to make your commercial outdoor area as successful as possible.
Federal and local codes. Any commercial space must comply with a host of regulations, including the Americans with Disabilities Act (ADA), electrical and building codes, and fire safety regulations. Make sure you understand all the regulations applicable to your space, and work with an experienced contractor who's familiar with federal, state and local rules. 
Pavement surface. Choose materials that will ensure the safety and comfort of visitors. Common materials include pavers (manufactured concrete paving stones), concrete, stamped concrete and gravel. Each has their own set of benefits and drawbacks, from aesthetics to safety, so it's important to balance each feature against other practical aspects like cost and maintenance.
Walkway design. Most commercial properties experience high use, which means walkways should be designed to withstand heavy pedestrian traffic. Like your pavement choice, walkways should be designed for safety and accessibility. For example, concrete can be easier to walk on or roll a wheelchair on compared to gravel.
Pro Tip: Stamped concrete can be a cost-effective, attractive option – but it can get slippery in rain or snow. Although gravel is inexpensive and easy to install, it's not usually ADA-compliant. Work with an experienced design/build landscape contractor to ensure you choose the right materials for this important aspect of your outdoor space.
Plant materials. If you're planning to install any softscape materials such as grass, plants and flowers, avoid anything that might be an allergen or would attract pollinators. For example, lilacs might smell wonderful to many people, but they're a common high-allergy plant that can aggravate sneezing and itching. They're also a favorite of pollinators, which means they can attract bees and other stinging insects that might harm guests. 
Size constraints. Make sure you plan the seating or working space to maximize capacity without crowding visitors. Create a detailed plan with an experienced contractor to maximize your space, especially if it's small or adjacent to an older building that might limit your ability to build or expand.
Technology. If this is a working outdoor space, or a restaurant where patrons might come to work, make sure your WiFi connection reaches all areas of the outdoor space, which might require a WiFi extender. Also consider adding extra outlets specially designed for outdoor use so visitors can plug in a computer, phone or tablet.
Comfort. If you're located in a cold climate, consider adding heat lamps to extend the timeframe you can use the outdoor space. If you're in a warmer climate or open during warm summer months, think about adding overhead cover, such as awnings or a pergola, to protect visitors from sun and heat. Also plan to add shade and wind breaks if there aren't natural elements nearby such as trees and hedges.
Sound and lighting. If you're planning to use the outdoor space for entertainment or dining, consider adding speakers for music. Carefully place lighting where it will be most useful for safely walking, eating and using your space.
Furniture. Consider the furniture for this space, particularly tables and chairs. Will picnic tables work, or do you need individual glass-topped, wood or plastic tables? Consider the weight capacity of the chairs you choose, as well as how easy they are to move across the surface of your outdoor space. Will your chairs have cushions, which can require a lot of maintenance, or chairs without cushions, which might be less comfortable? An experienced designer can help you make the right choices for your space and how it will be used.
Future needs. Create a plan to ensure your outdoor space will meet your long-term needs. For example, if you might want to add a firepit, irrigation, extra lighting or a sound system at a future date, ask your contractor to install a "sleeve" under your hard surface to make it easier to run lines for these components later.
Choose a partner with experience
The Reesman Company brings together an unmatched combination of expertise, equipment and technology to design and build outdoor spaces for commercial buildings. We offer full landscape services for builders and developers, general contractors and landscape architects, delivered by our highly trained and experienced team of professionals. We have the resources, talent and experience to deliver commercial landscaping projects on schedule and within budget.
Call 262-539-2124 to speak with one of our landscape professionals or contact us for more information.