Enhance Your Outdoor Space with Custom Wood Features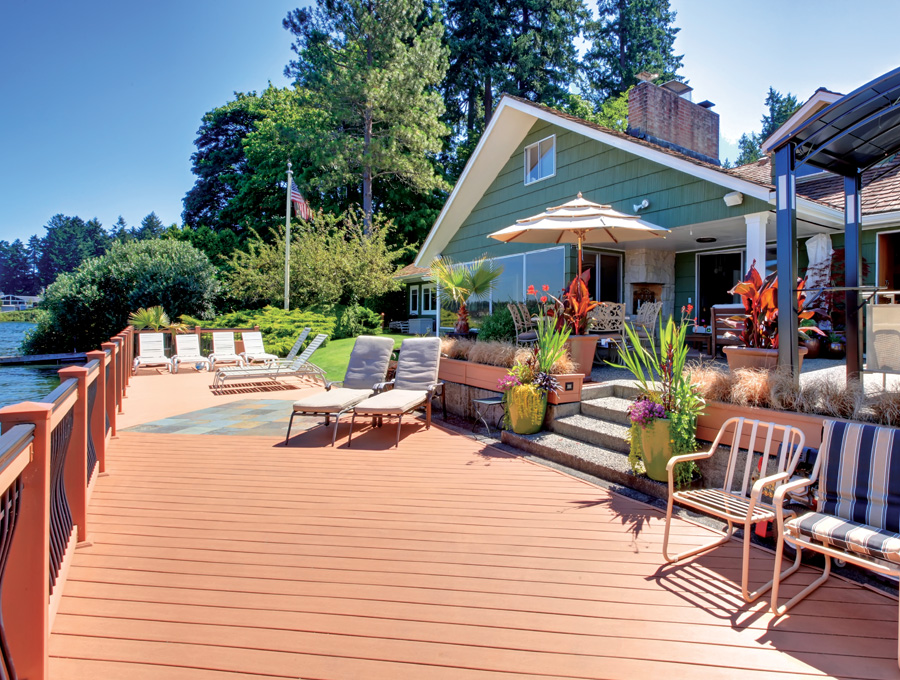 Custom-built wood features are the perfect complement to the beautiful landscaping in your yard or green space. Well-designed and built wood structures, such as decks, gazebos, arbors and three-season rooms, can enhance your home or business while expanding your outdoor living space so you can better enjoy the natural world around you.
Natural wood vs. composite materials
Before you design or build a wood feature, you'll need to determine if you'll use natural wood or a composite material. Composite is manufactured with a variety of materials, including wood, plastic and other additives, to look like natural wood, but is generally stronger and more durable.
Here are the four things to know before choosing between natural wood and composite.
Maintenance – Natural wood needs to be treated, stained and sealed every year to keep its appearance and functionality. However, composite materials require almost no maintenance beyond a simple annual cleaning.
Durability – Although composite materials can fade or warp, they often last nearly twice as long as natural wood. Natural wood can crack and splinter from weather conditions like rain, heat and snow, so it will likely need to be repaired and replaced more often than composite materials.
Appearance – Composite materials are made to look like wood, but with less variance in appearance. Wood decks often feature a more natural look, and they can be stained nearly any color to match your home's appearance.
Cost – Natural wood tends to be less expensive up front than composite materials, often running about half the cost of composite materials. However, the long-term costs of a natural wood structure, including repairs, maintenance and replacement costs, can add up over time compared to the lower lifetime costs of a composite deck.
Popular custom-built wood features
When considering a new structure in your yard or green space, it's important to know your options. A reputable builder can help determine what type of feature will look best on your property while giving you the functionality you're looking for.
Decks. Custom-built decks are a versatile and practical addition to any home or business that expands your living space and maximizes your property. A custom deck lets you design and build an outdoor space that perfectly complements your home and yard, with enough space to enjoy spending time with friends and family.
Pergolas, arbors and gazebos. These overhead structures add distinctive flair and unique beauty to your outdoor space. They can help you shade a sunny area, add seating to your property, or set off the entrance to a yard or garden.
Fences and privacy walls. Keep your yard secure and add an extra layer of privacy to your outdoor oasis with fences and privacy walls.
Three-season rooms. These rooms are one of the best ways to expand your living space to enjoy the outdoors. They often incorporate screens and windows to restore your connection to nature without leaving the comfort of your home.
Other custom wood-built structures to consider:
Outdoor kitchen wraps
Swimming pool surrounds and hot tub insets
Sheds
Staircases and railings
Garden boxes
Hospitality and office building areas
The Reesman Company designs, builds and installs custom wood structures of all types. Call 262-539-2124 or contact us to learn more.