Where to Start When Planning an Irrigation System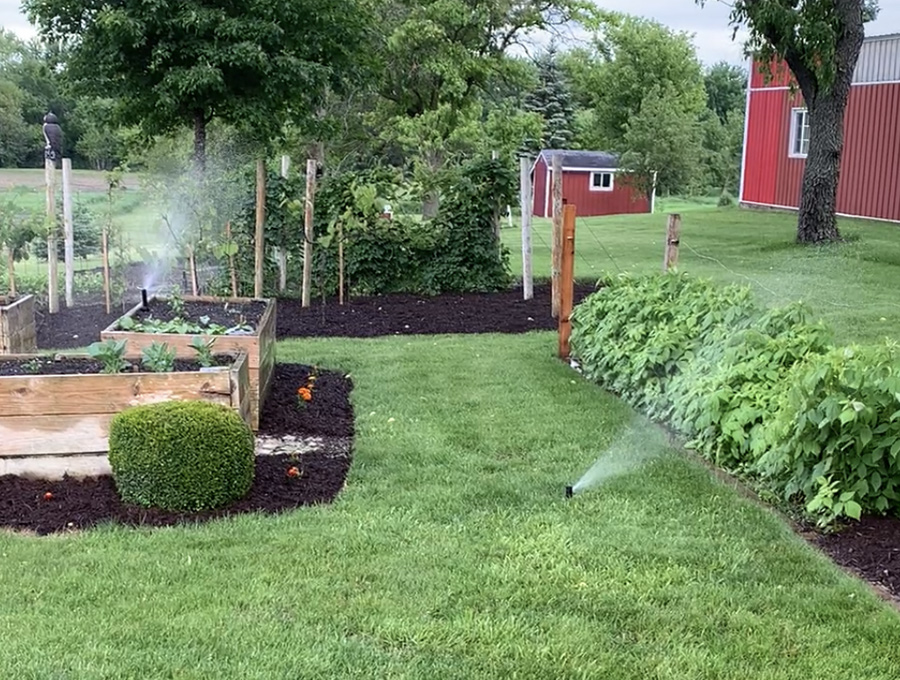 Watering your lawn can be as simple as setting out a sprinkler during the warm summer months. But this can easily lead to underwatering or overwatering, which can harm your lawn in the long run.
That's where an irrigation system can help your lawn and plantings. An irrigation system makes it easy to properly hydrate your landscape at the right time and in the right amount. Whether you're a homeowner looking to water a suburban lot or a developer that needs to irrigate dozens of locations, here's what you need to know before installing an irrigation system.
Installation can happen at any time.
It's not uncommon to install all your hardscapes and softscapes, then decide at a later date that you need an irrigation system to keep your landscape beautiful all season long. The good news is that an irrigation system doesn't have to be installed before your yard is complete. It's possible to work around (and even under) your lawn features, including patios and firepits, to install an irrigation system.
Determine what you want to water.
Assess your landscaping characteristics and decide what needs to be irrigated and what doesn't. If you're ready to stop dragging hoses out to your garden, a system that focuses on your flowers or veggies could be right for you. Or maybe you want to water your acres of lush, green lawn all season long. Or maybe you need to set up a system to easily water your potted planters. Knowing what you want to water will help you determine what system is best for your specific situation.
Know your water characteristics.
Your water composition will directly impact how you will set up your irrigation system. It's important to understand a variety of characteristics, including:
Source – Where does your water come from? Sources can include private wells, shared wells, a nearby lake or city water.
Volume – Does your source have enough water volume to sufficiently provide water to an irrigation system? You should ensure you have enough water to provide basic services, as well as irrigation.
Pressure – Does your system have enough pressure to efficiently distribute water over your landscape? Remember that this could be impacted by environmental features on the property, such as hills or low areas.
Hardness – Do you have hard water? The hardness of your irrigation water is determined by the mineral levels in the source water, including calcium and magnesium. It's also important to know if your home or residential building has a water softener, as you'll want to avoid tying in your irrigation system to your softener.
Quality – What's in your water that could decrease its quality for irrigation? For example, it's important to know if you have high iron content in your water before you water near a light-colored driveway or landscaping features, as the iron can permanently stain those features.
Understand your utilities.
An irrigation system doesn't just need water – it also needs the right kind of electrical supply. If your location doesn't have exterior access to an electrical system, you'll need to establish a way to tie into an outdoor system. This requires hiring an electrician to make sure your wiring has the right components to properly run the irrigation system.
Pro Tip: Work with a professional landscaper who has long-standing relationships with trusted partners to ensure your irrigation system meets your watering needs, as well as all electric codes.
Assess your desired ease of use.
Irrigation systems come in a variety of configurations and control options, from manually controlled systems to complete smart systems that can be remotely controlled by your landscaper. Talk with a professional about what might be the right option for you, based on the size of the area you need to irrigate, the water needs for your location, your budget, and how much time you want to spend thinking about your system. This will help you determine which irrigation system meets your needs and your price point.
Consider rules and regulations.
Many areas have implemented water usage laws to help monitor and conserve our most precious resource. Before planning your irrigation system, it's critical to know the laws that affect your area. This can include any federal, state or municipal laws, as well as homeowner association or neighborhood rules.
Pro Tip: A reputable landscaper will check with all ordinances to make sure your irrigation system meets pertinent guidelines and regulations before installation.
The Reesman Company is experienced in installing irrigation systems for both residential homeowners and commercial developers throughout Southeastern Wisconsin and Northern Illinois. Call 262-539-2124 to speak with one of our landscape professionals or contact us for more information on how to install an irrigation system that fits your needs.