Why Aeration Is the First Step to a Lush, Green Lawn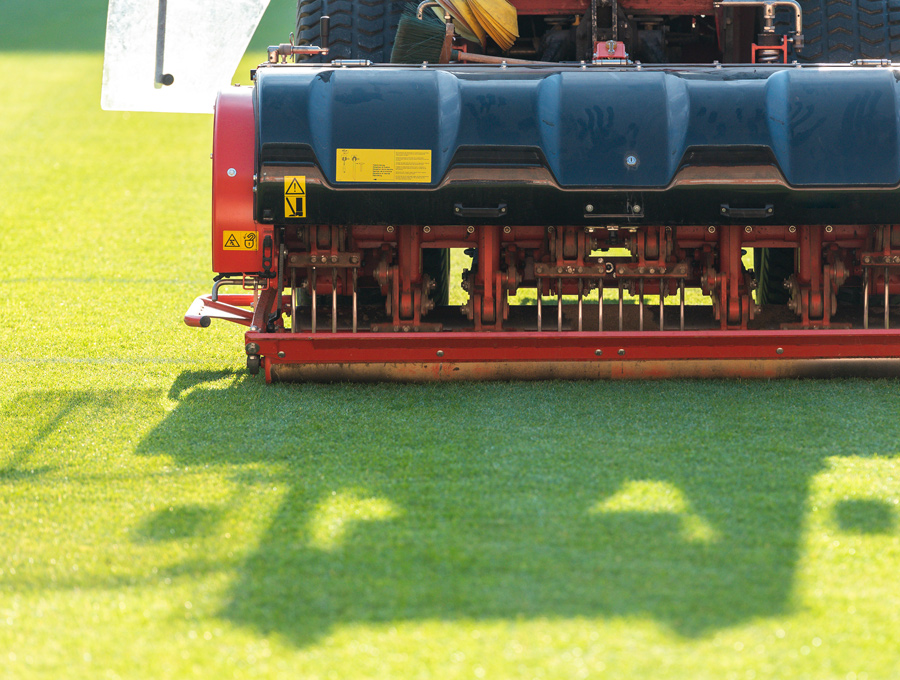 Spring cleaning gets your lawn ready to thrive throughout the entire growing season. Over the winter, grass and soil can become compressed and compacted, creating a thin layer of dead grass – or thatch – that prevents air, water and fertilizer from getting to the roots of your grass. This causes it to grow thinner and die.
That's why one of the first steps in your spring clean-up routine should be to aerate your lawn. An aerator has specialized tines that pull out short plugs of grass and soil, creating narrow holes in your lawn. These plugs break up and soften before being reabsorbed by the soil, resulting in a softer, more penetrable surface within about two to three weeks.
PRO TIP: If you have a maintenance contract with a landscaper, check to see if aeration is included in the package. If not, ask for it to be included.
Benefits of aerating your lawn
Lush, green grass. Aeration makes holes in the lawn and loosens the soil beneath. This lets oxygen, water and important nutrients reach grass roots to encourage root development, leading to a beautiful lawn.
Less watering. Aerated lawns use water more effectively and doesn't let as much water runoff, meaning you have to water it less often.
Less fertilizer. When fertilizer can quickly and easily reach grass roots, it's more easily absorbed and used by the grass. In addition, this means less fertilizer runs off into the sewer system and into the water table.
Easy grass repair. If the majority of your lawn is healthy, but one area is dead or damaged, you can simply aerate that small section and reseed it. This will promote a healthy carpet of grass across your entire lawn.
Eco-friendly. Aerating is a natural process that prevents you from using excessive amounts of water or chemicals on your lawn. This can help you maintain a healthy lawn and planet.
Best practices for aerating your lawn
Start early in the growing season. Aerating is a cool season process, and it's best to do it in the spring or fall. In general, most homeowners should aerate their lawns once a year.
Get deep. Aeration should get down to the roots of your grass. If you don't go deep enough into the soil – at least three to four inches – you won't get the full benefit of aeration.
Stay steady. Just like mowing your lawn, you want to make sure every inch gets aerated so you don't have a dead patch of lawn later in the growing season.
Use the right equipment. An aerator is a special machine that has a roller on the front weighed down with a water tank to ensure the tines push far enough into the earth.
PRO TIP: Although there are several aeration tools available to homeowners, most don't have the right tines to properly aerate a lawn. Contact a professional to get the job done right.
Get the timing right. If you just installed a new lawn, it might be too early to aerate. It generally takes several years to establish your grass before you need to aerate it.
PRO TIP: Consult with a professional before aerating your lawn, as you might need to address other issues first, such as water drainage or proper turf growth.
The Reesman Company are the experts in getting your lawn ready for the season. Call 262-539-2124 to speak with one of our landscape professionals or contact us for more information on how to keep your yard beautiful all year long.