The Reesman Company Acknowledged Nationally at 2023 Concrete Masonry & Hardscapes Association (CMHA) Trade Show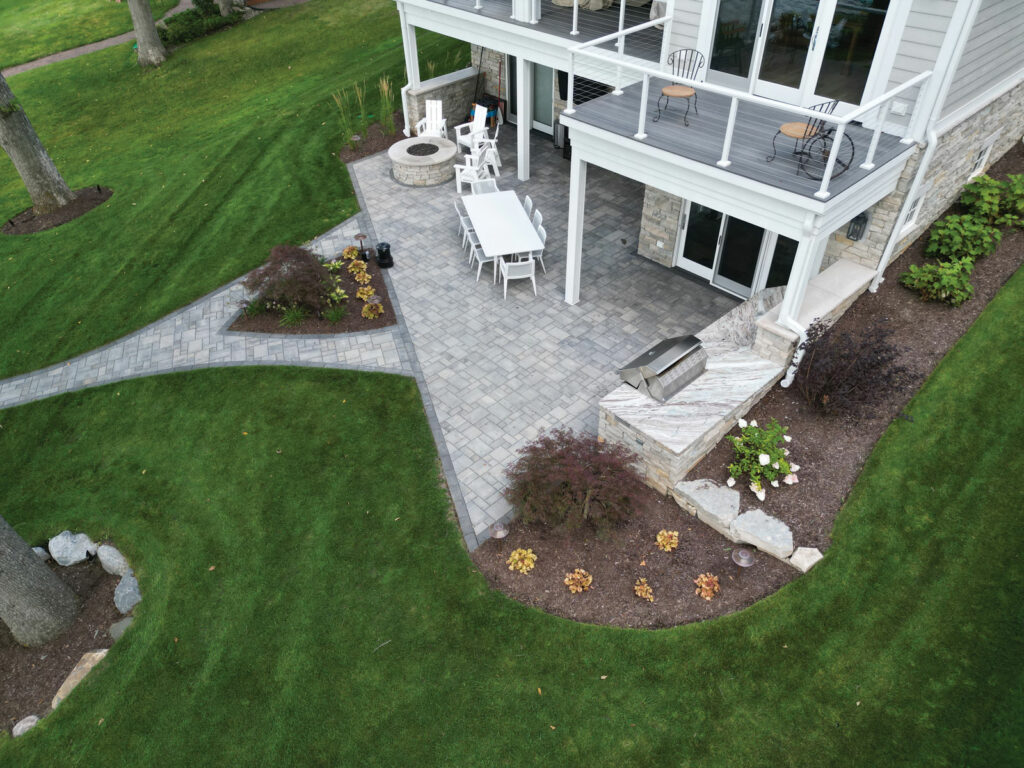 The Reesman Company is honored for recognition for a recent residential project featuring permeable concrete pavers at this years' Hardscape North America Awards Program.
November 2, 2023, Burlington, Wisconsin – The Reesman Company was recognized at the 2023 Hardscape North America Awards Ceremony on October 19 at the Kentucky Exposition Center. Recipients recognized for remarkable residential and commercial hardscape projects that showcased an array of hardscaping designs that included patios, pool decks, outdoor living spaces, commercial installations, golf courses, colleges, public institutions, roadways, and more.
In the category of Concrete Paver – Permeable, The Reesman Company received an Honorable Mention award for work recently completed at a private residence in Burlington, WI. The project created a multi-generational family destination with the design goal to maximize every inch of this lakefront lot while not taking away from the serene, natural setting. With practical needs to maximize parking, manage storm water, and restoring the shoreline, this landscape design incorporates ample spaces for entertaining, dining, and relaxing. Attention to design and craftsmanship in order to match the home materials, colors, and style while integrating the kitchen station, upper retaining walls, waterfront boulder wall, and even down to the custom utility and trash area surround. We ensured proper grades and slopes for efficient water drainage and eliminating standing water. Special construction considerations included drainage issues, joint driveways, narrow lots, while managing water and environmental concerns were a high priority. Permeable pavers were used for meeting storm water requirements and for cleaning the water when it makes it way to the lake.
The annual Hardscape North America (HNA) Awards Ceremony celebrated contractors, producers, and designers for top honors. This year's program hit record-breaking numbers with 219 submissions across 18 hardscape categories, including concrete paver, clay brick, segmental retaining walls, porcelain, natural stone, vintage installation, outdoor living features, and a combination of hardscape products. The judges, made up of industry experts, recognized hardscape crews for excellence in project design, quality, compatibility, and construction. The HNA Awards are produced by the Concrete Masonry & Hardscapes Association (CMHA) and endorsed by the Brick Industry Association (BIA) and Natural Stone Institute (NSI).
The project team included:
Contractor: The Reesman Company
Producer: Rochester Concrete Products
Designer: Dave Kmetz
Customer: Private Residence, Burlington WI
The Reesman Company is grateful to our customer who provided us with the opportunity to build a functional and beautiful space that will enable many years of entertaining, dining, relaxing, and memory building for family and friends.
About The Reesman Company
Since 1970, The Reesman Company has provided construction and landscaping services to property developers, homeowners, and municipalities throughout southeastern Wisconsin. Whether it's a backyard retreat or a 300-acre development, we help our clients bring their vision to life. Our time-tested strategies and the latest technologies deliver the best customer experience and results — every time. www.reesmans.com