Bring Ambiance and Security to Your Outdoor Living Spaces with Lighting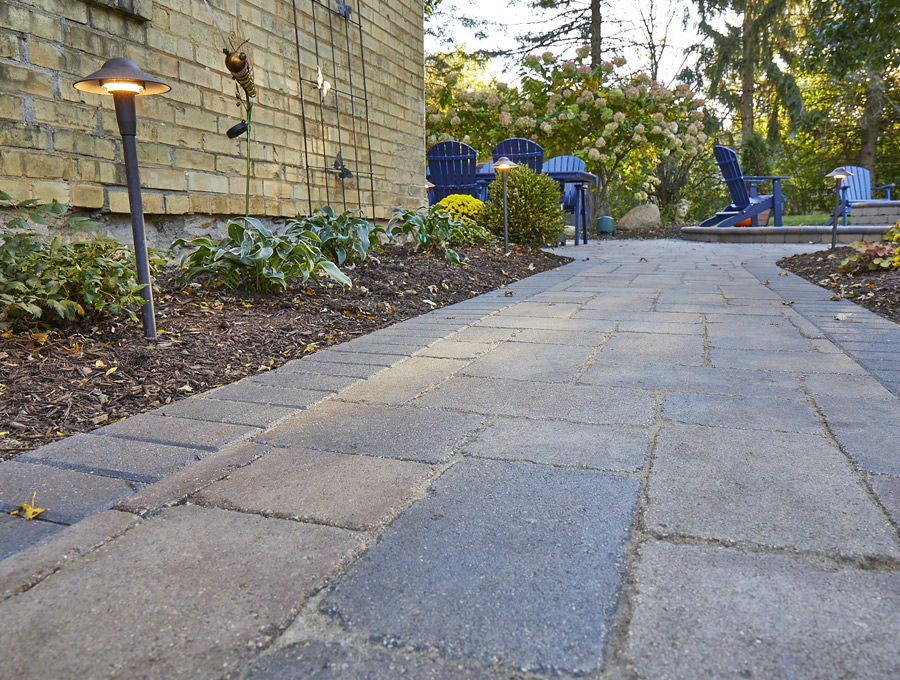 You've planned and built the yard of your dreams, complete with walkways, a patio and firepit, plus gorgeous trees, grass and plants. Now it's time to put the final finishing touch on your perfect outdoor oasis – lighting.
Landscape lighting brightens your yard and highlights exterior home features, allowing you to enjoy your outdoor spaces long after the sun sets. It's also ideal for illuminating dark sections of your yard and driveway, boosting home security and increasing safety when walking around at night. Here's what you need to know about installing landscape lighting.
7 Kinds of Outdoor Landscape Lights
Uplights. This is a kind of spotlight that points upwards to brightly light features in your yard, such as trees, plants, walls, columns or other architectural elements.
Downlights. This spotlight points downwards to dramatically illuminate features from above and create welcoming pools of light around tables and seating areas.

Path Lighting. Use lights to mark pathways around your home and backyard, making it easier and safer to navigate at night.

Step Lights. These can be installed on walls beside stairs or on the front vertical face to help illuminate steps, ledges or any tripping hazards. This can help prevent falls and trips down stairs in the dark.
Moonlighting. Moonlighting uses lights to cast shadows across your yard, creating a natural-looking effect of moonlight. Light fixtures are mounted above the lowest branches of the tree or structure, creating a dappled effect on the ground surface.
Floodlights. These lights brighten large areas with a wide coverage range. They're often used to illuminate driveways and patios from above, and can be a crucial element to keeping your home and belongings secure.
Motion Lights. These lights are automatically triggered by motion, improving security around your home, garage and yard. This also helps illuminate any dark areas being recorded by security cameras.
Consider a variety of lights
Different exterior features and architectural details need different kinds of lighting. A great landscape plan will include a variety of fixtures and lighting types, resulting in a beautiful and natural-looking yard. Consider using a combination of downlights, uplights and path lights to illuminate your home and landscaping at night.
Plan ahead
Beautiful landscape lighting starts long before the first light is installed in your yard – and even before you put in your yard at all. If possible, talk with your landscape designer before you install any grass, plantings, patios or walkways to ensure electrical lines are run in the right spots to support your future lighting plans. This will prevent unnecessary digging, site preparation and lawn restoration, saving you time and money in the long run. If your landscape is already installed, talk to your landscaper to decide how to best install lighting without disturbing your existing hardscape and softscape features.
Pro Tip: Choose a trusted expert that works with licensed electricians who will get your lighting started right and finish the project to your specifications.
Choose LEDs
One of the best ways to highlight your landscape is with LED outdoor lights. In fact, these types of lights become the gold standard of landscape lighting in recent years.
Energy efficient – LED lights use at least 75% less energy compared to traditional incandescent bulbs.
Long lasting – LEDs last up to 30 times longer than incandescent lights. That means you'll rarely have to change bulbs in your landscaping.
Reduced costs – Using less energy leads to lower utility bills. Replacing lights less often also saves money on replacing bulbs.
Color options – LEDs offer a wide variety of color and brightness options, allowing endless possibilities for tints that match your style and color preferences.
Brightness and dimming options – LEDs use less watts to deliver more light, giving you more light with less power. They also can be dimmed, giving you more options for mood lighting.
Cooler – Because LEDs are so energy efficient, they produce much less heat than traditional bulbs, which means they're safer to handle and won't overheat.
Fewer insects – Because LEDs don't generate as much heat, they won't attract insects the same way as incandescent lights. That's especially important for outdoor lights, which often attract bugs that can interfere with your landscape lighting.
Smart controls – LEDs can be controlled through an app on your phone, allowing you to remotely turn lights on and off, adjust brightness or dimness, change colors or set a timer for certain lights.
Don't forget security
Strategically place lights around your home, garage and any outbuildings to illuminate large areas of your yard and help increase home security. These lights can also help illuminate any areas that might be monitored by security cameras so you can identify disturbances in the night.
At The Reesman Company, we have the expertise to guide you through choosing all elements of outdoor lighting to finish off your landscaping. Call 262-539-2124 to speak with one of our landscape professionals or contact us for more information on how to keep your yard beautiful all year long.