How to Design Custom Hardscapes that Will Last a Lifetime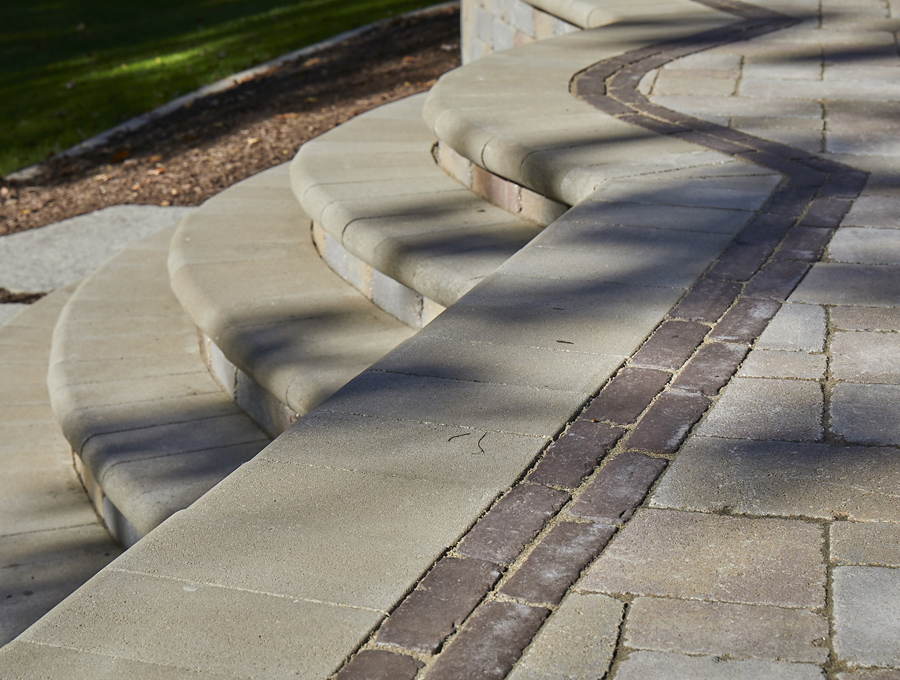 Many homeowners don't consider their yard complete until they've installed "hardscaping" – patios, walkways, driveways, retaining walls, and any other outdoor features constructed of stone or concrete. These elements complement the landscape of your home and allow you to maximize your beautiful outdoor space.
Here's what you need to know to ensure you get a beautiful hardscape structure that will last for years to come.
It's all in the base. The most important part of a patio, driveway or firepit is the one you can't see: The base. This is typically composed of a layer of crushed stone material, such as gravel, that acts as a support between the virgin soil below and the concrete slab or stone pavers on top.
Reduces settling and cracking. The soil beneath your concrete slab or pavers is constantly moving. The stone base helps absorb this movement to reduce settling and the cracking that comes from it.
Promotes drainage. If a slab is poured on organic topsoil, that organic topsoil will eventually flex, and the concrete will sink/ and crack. When a gravel base is applied, runoff washes through the gravel base to keep your slab or stone well-supported and crack-free.
The more stone base, the better. The industry standard for a base is six inches of crushed stone, but The Reesman Company usually recommends a minimum of eight inches. This extra stone prevents flexing during the freeze-thaw cycle, which can further avoid cracks over time. Two extra inches of relatively inexpensive stone is a far better investment than replacing or repairing cracked or broken hardscape.
Know the soil surface and geology. Understanding the ground beneath the base is the first step in building a patio or hardscape element that will last a lifetime. For example, a clay surface shifts differently than gravel-rich soil. Clay also retains more water than gravel, which can get trapped under a concrete slab or pavers. Once it's trapped, the water freezes and expands, causing cracks and damage. A clay subsurface might require more than eight inches of stone to ensure proper drainage and slab support, whereas a gravel subsurface might need less stone to support the slab.
Choose your materials. Most hardscape elements are crafted from concrete or some type of stone pavers. Concrete is often attractive to homeowners because it's less expensive, but it often needs more maintenance than pavers. With pavers, you can remove or repair individual sections without redoing the entire patio or walkway.
Seal it. Whether you're working with concrete or pavers, sealing the material will help repel stains, reduce dust, resist abrasions, prevent water and deicing salts from entering the stone, and maintain its appearance for years to come.
Choose your timing. The right time to put in a hardscape depends on the type and location. For example, it's wise to wait a year after building a new home to let the ground settle before putting in a driveway. Other hardscape elements, such as a patio, walkway or firepit, could be installed right away because they don't need to support the heavy weight of a vehicle.
PRO TIP: Check your local subdivision or neighborhood covenant, as many require installation of hardscape elements within a certain timeframe.
Discuss a budget. Size and materials drive costs. Work with a professional who will educate you about your options so you're fully informed about cost and actual look and feel of your hardscape.
Choose your design and materials. During this phase, you can discuss concepts and materials, such as structures, planting beds, terraces, and color. You'll be able to see and feel samples of hardscape, such as different types of pavers and stonework.
At The Reesman Company, we design and build custom patios and hardscapes, including natural boulder retaining walls, stone steps, walkways and driveways that add function, style and curb appeal while increasing your outdoor living space. Whether you want to gather around a warm fire or share an al fresco meal with your family, we'll design a custom space that's both aesthetically pleasing and functional. Call 262-539-2124 to speak with one of our landscape professionals or contact us for more information on how to keep your yard beautiful all year long.