The In's and Out's of Overseeding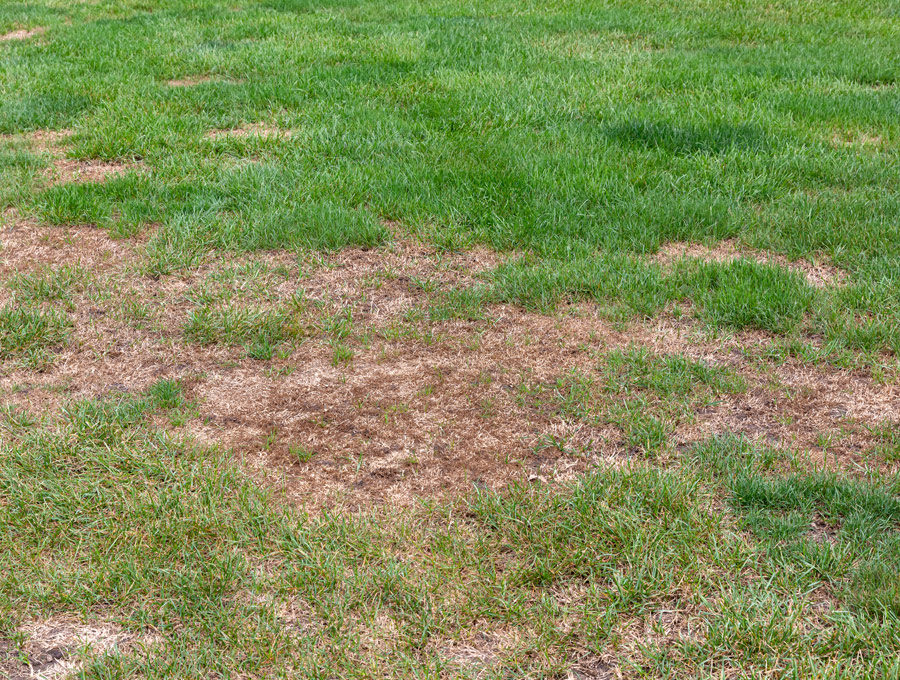 It's a common sight once the snow has melted: Your lawn is growing in, but there are patches of thin or dead grass that give your yard a patchy, unhealthy look. That's when it's time to consider overseeding.
Overseeding is planting grass seed directly in areas of your existing lawn to promote new growth in bare areas. It's an easy way to fill in thin spots, improve the thickness of your lawn and spruce up your yard's overall appearance.
Benefits of overseeding
Proper overseeding will produce a healthier, better-looking lawn that responds better to mowing, fertilizing and watering – all so you can truly enjoy your outdoor space throughout the season.
Overseeding can help:
Promote healthy growth
Restore that lush green color
Improve resistance to disease and drought
Protect against insects and pests
Reinvigorate grass in shady areas or heavy traffic zones
Reduce the amount of fertilizer, water and pesticides needed to keep your lawn healthy
How To Overseed
Do identify what's causing the issue.
Before overseeding, you should find out why your lawn is experiencing thin, weak patches. Problems could include poor soil condition, improper drainage, excess thatch or insufficient sunlight. It's best to correct the problem before you establish new grass, or your new turf might suffer the same fate as your previous yard.
PRO TIP: If you can't identify the underlying issue, contact a reputable local lawn professional to assess the situation. They can help you with soil samples and other tests to determine what's damaging your lawn.
Don't blindly choose your seed.
It might be tempting to go to your nearest big box store and pick up a bag of inexpensive grass seed. But whatever is in that bag might not be appropriate for your lawn or environment – and even worse, it could introduce new weeds to your lawn. If it's a different seed than what's already there, it could also cause your lawn to look even more patchy and inconsistent.
Use grass seed from a local landscape supply company to ensure it grows well in your climate and matches what's already growing. Common choices in our region are Kentucky Bluegrass, Ryegrass, Bermudagrass and Tall Fescue, but it's best to know the exact composition of your lawn before laying down new seed. This will give you lush, green growth for years to come.
PRO TIP: If you don't know what type of grass is on your lawn, contact a local landscaper to identify what you have and what would be a good overseeding choice.
Do prep your lawn.
Prepping your lawn before you put down the new seed will promote germination and healthy growth. This process roughs up the soil, which also offers better protection from pests and harsh environmental conditions.
Cut grass to about 2" high.
Thatch and/or aerate your lawn to ensure your newly applied seed has the highest seed-to-soil contact.
Apply seed in a consistent layer wherever you see thin or dead spots.
Cover with straw to protect the seed from direct sunlight and pests.
Fertilize with a starter fertilizer specially formulated to support new grass growth. Don't use the fertilizer you're already using on your established lawn, as that could inhibit germination.
Water each overseeded area daily for one hour, or until the ground is thoroughly wet without any runoff.
Seeds will germinate and start growing in about 7-10 days.
Don't start too late.
In our region, the best time to overseed your lawn is in the spring from April through Memorial Day, when the active growing season begins. While you can overseed in the fall if necessary (mid-September to mid-November is acceptable), it's best to start earlier than later.
Do maintain your lawn.
Once the seed is germinated and growing, you should feed your lawn with a standard fertilizer three times a year. Also keep up with a proper watering schedule across your entire lawn. Remember that it can take three years to fully establish the overseeded sections of your lawn. So be patient and take good care of what you've grown.
At The Reesman Company, we have the expertise to guide you through identifying turf issues and overseeding lawns to produce a lush, thick carpet of green that you can enjoy all season long. Call 262-539-2124 to speak with one of our landscape professionals or contact us for more information on how to successfully overseed your lawn.