What You Need to Know About Firepit Installation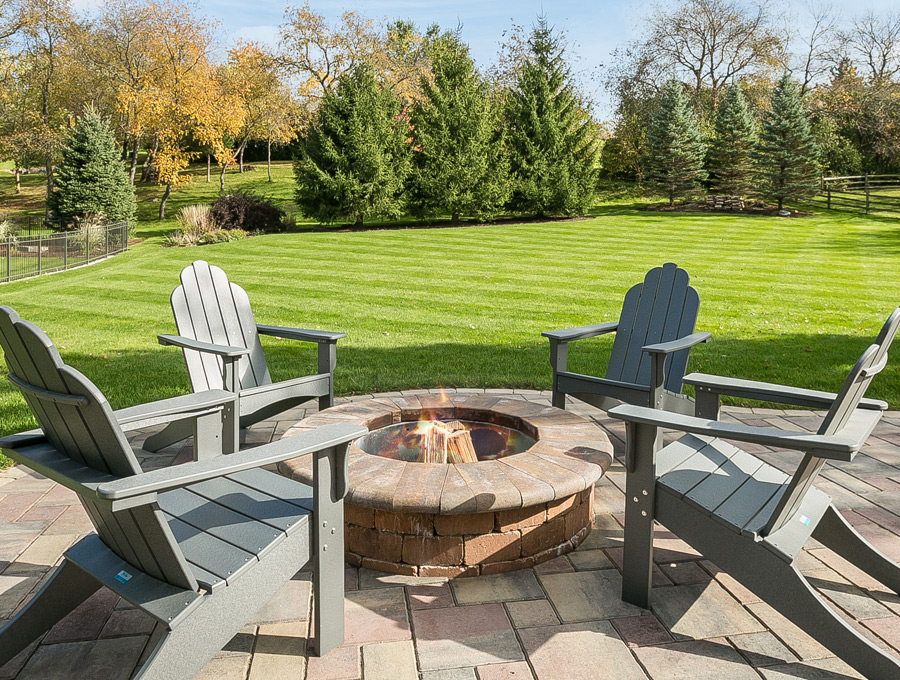 Firepits are one of the most popular landscape accessories, and it's not hard to see why. They're functional, practical, and comfortable – and almost everyone enjoys sitting around a crackling fire any time of year.
Now that you know how to determine your firepit needs, here's what to consider when getting ready to install a firepit.
Construction Materials
Firepits commonly consist of an inner wall, an outer wall, a "cap" around the edge, and decorative stones, pavers or glass as the base of the pit.
Firepits shouldn't ever incorporate flammable materials or any materials that hold water, such as pea gravel or river rocks. Always use only fire-rated rock or fire glass.
Interior – The inner wall will be directly exposed to the flame and must be made of fireproof building materials, such as fire brick or a fire ring.
Exterior – Options for the exterior of your firepit are nearly endless, from cut stone or pavers to concrete block or heat-resistant tile. Choose a material that matches your patio or outdoor style.
Cap – This is the flat tabletop-like surface around the edge at the top of the pit. Granite or quartz are great choices that handle heat well.
Base – Most firepits are lined with reflective firepit glass or flame-resistant lava rock that safely disperse heat.
Optional tabletop – Consider adding a removable steel or copper tabletop that can turn your firepit into a table when not in use.
PRO TIP: Ask your landscaper to add a power outlet in the base of your firepit, or somewhere else that's easy to access when sitting around the fire. This will make it easy to charge phones and tablets, run a computer or projector for outside movies, and power outdoor speakers.
Fuel Connections
If you choose gas, you have two options: propane or natural gas. Propane-fueled pits require a connection to a liquid propane tank, which some homeowners already have. Natural gas-fueled fire pits require the gas company to install a supply line. While wood-burning fire pits require no gas lines, they come with smoke, sparks and embers, along with ash removal and the need to fully extinguish a fire before it's left unattended.
Dimensions
The recommended diameter for a round fire pit is between 36 inches and 44 inches. But a custom firepit can be almost as large or as small as you like.
Inside diameter – This measures the size of the internal burner pan(s) that will contain the fire.
Outside diameter – This measures the size of the entire firepit, including the external materials.
Height – Most firepits should be between 14 inches to 18 inches high, and no more than 22 inches high, so you can easily see your guests and converse across the flames. Taller fire features can act as a different source of entertainment, but should be carefully considered before installation.
Heat Sources
The burners and pans are the "guts" of the firepit and need to be chosen as a team. Burners come in a variety of shapes and sizes, from long H-burner styles and straight tubes to circular, stars or even lotus styles. Make sure your burners fit the style and shape of your firepit. For example, don't choose a round burner for a rectangular firepit, or you'll experience cold spots when sitting around the flames.
It's also important to review how much heat each style of burner produces. Remember: The more burners, the more heat. And the larger the burner, the more heat.
A strong base
One of the most important parts of a firepit is the base underneath it. This is typically composed of a layer of crushed stone material, such as gravel, that acts as a support between the virgin soil below and the firepit on top. The industry standard for a base is six inches of crushed stone, but The Reesman Company usually recommends a minimum of eight inches. This extra stone prevents flexing during the freeze-thaw cycle, which can help avoid cracks over time. Two extra inches of relatively inexpensive stone is a far better investment than replacing or repairing cracked or broken firepit.
At The Reesman Company, we design and build custom firepits so you and your family can enjoy every season in your own beautiful backyard. Call 262-539-2124 to speak with one of our landscape professionals or contact us for more information on how to choose the firepit that's right for you.