Understand Your Options for a Backyard Firepit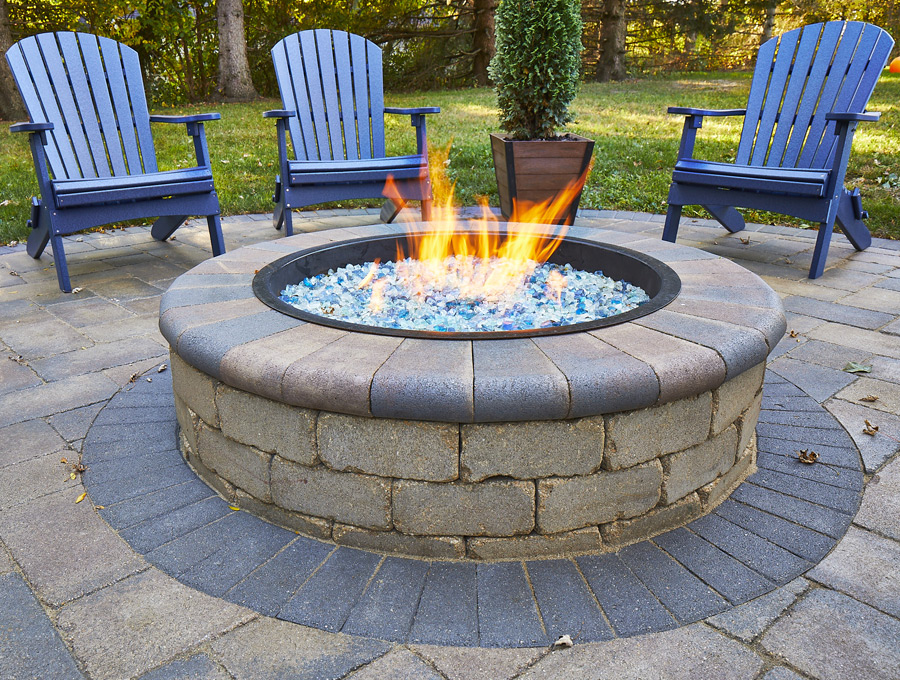 There's nothing like sitting around a crackling fire with family and friends to make your backyard feel cozy and warm. That's why firepits are one of the most popular hardscape additions to homeowners' yards. They're the perfect focal point to gather for morning coffee, afternoon barbecues, dinner and drinks, or late-night s'mores.
Here are some helpful tips to help you determine what kind of firepit might be right for you and your backyard.
Choose a fuel source. It's the first question to answer: do you want to burn gas or firewood?
Propane or natural gas – Gas burns clean and smokeless, without any sparks, embers or ashes to clean up. It's easy to turn on and off, and offers more control over the consistent heat it gives off. When you want to go to bed after an evening of enjoying your firepit, simply flip a switch and head inside.
Wood – Many people love the smell and ambiance of a wood-burning fire. But for every person who loves smelling like woodsmoke, another doesn't enjoy smelling like fire the next day. While wood firepits have their benefits, they require additional work and maintenance.
PRO TIP: At The Reesman Company, most of our customers are busy people who want the ease and convenience of a gas firepit. But we can accommodate either fuel source! Talk to a professional before ruling out either option to make sure you get a firepit that you'll love.
Consider how you'll use it. A retired couple looking for a quiet night will probably use a firepit differently than a family with young kids. Ask yourself:
What's the size of your family?
How large are your typical gatherings?
What else is there to do in your yard?
Will you want to use it as a dining spot, too?
Answering these questions will help you determine the next most important elements – the location and size of your firepit.
Size and shape considerations. Think about your entertainment style and desired furniture layout. If you want to sit in chairs while chatting with friends and family, a round pit is your best bet. If you have a longer couch that you want to use with your new firepit, a rectangle is a better choice. Remember to make sure the firepit will be long enough to keep everyone on the couch toasty warm.
Firepit kits usually come in 36-inch round or square options, but that's often not large enough for your entire group to feel warm and toasty next to the fire. Stake, paint, or tape off your proposed firepit, then put your furniture around it to assess whether or not the size and shape feels right to you. 
PRO TIP: A reputable landscaper will check with all local and neighborhood ordinances to make sure your new firepit meets all guidelines and regulations before installing your firepit.

Location. If you have a paver patio, you're in luck! Firepits are easy to install in paver patios. Just pull up a few pavers and place your firepit in the perfect spot. With a little additional effort, firepits can be installed anywhere in your yard, including on a concrete patio. Make sure you choose a location that will comfortably fit the firepit and your furniture – including seating and any side tables you plan to use – as well as room to walk around the firepit comfortably.
At The Reesman Company, we design and build custom firepits that help you and your family enjoy every season in your own beautiful backyard. Call 262-539-2124 to speak with one of our landscape professionals or contact us for more information on how to choose the firepit that's right for you.